(Submission to REHDA Malaysia)
Applicants are to ensure that the following forms are fully completed before submission and the necessary documents enclosed/attached together:

Form A - Registration Form;  

- NEW FORMAT

Form B(i) - Details of Project;  

- NEW FORMAT

Form B(ii) - Property Listing (Excel format);  - NEW FORMAT
[

Note

: Property listing must be submitted in EXCEL format using the template provided on the website. PDF documents will NOT be accepted. All relevant rows and columns are to be fully filled; one line/row for each unit, without leaving any empty lines in between.]
For under construction projects : Valid Developer's Licence (DL) and Advertisement and Sale Permit (AP) duly certified by solicitors;
For completed projects: (a) Certificate of Completion and Compliance (CCC/Form F) duly certified by solicitors together with (b) Declaration of Selling Price Form- NEW FORMAT

.


(Note: For completed residential projects on commercial land/title, applicants are required to also submit the project APDL.)
Proof of payment of the Administrative Fees for Registration Exercise.

All forms and documents to be submitted online via http://rehda.com/hoc2019-registration .  

Submission with incomplete documentation will NOT be processed. 

An administrative fee payable to REHDA Malaysia shall be imposed for revision/amendment of Form B(ii) of registered residential units at RM500 per project OR RM50 per unit.
Please note that Sale & Purchase Agreement affecting the transaction must be executed between the purchaser and the developer on or after 1 January 2019 but not later than 31 December 2019; and
The registration exercise with REHDA Malaysia will be closed on Friday, 15 November 2019 - 6.00pm.

(Submission to REHDA Branches where the project is located)
Only properties which have been registered with REHDA Malaysia, SHAREDA and SHEDA will be entitled to the stamp duty waivers.

Upon the sale of a property which has been registered, the developer shall need to submit the Certificate for Stamp Duty Waiver (1 Jan - 31 Dec 2019) 

- NEW FORMAT

, in quadruplicate using BLACK pen (only) with original signatures and company stamp, and forward all 4 copies together with a copy of the Sale & Purchase Agreement (relevant pages with details of purchaser, developer, property and signatures) to the REHDA Branch in the state where the property is situated for certification;

Please use a separate sheet for each transaction;

The REHDA Branch concerned shall return 2 copies of the certification to the developer, to be produced to the relevant stamp duty offices for the purpose of stamp duty exemption, upon payment of the relevant Administrative Fee for Certification Process; 
Payment of the fee for certification shall be made direct to the respective REHDA Branch which carries out the certification (and NOT to REHDA Malaysia Secretariat).
The closing date for the Certification Process is Wednesday, 15 January 2020.
REHDA and its Branches have the right not to process documentation(s) that is not following the format given.
For the purpose of the registration exercise,'per project' is defined as 'per developer's licence'.
Property priced at RM300,000 and below, as well as above RM2,500,000 are not eligible to participate in the Home Ownership Campaign.
Registration and certification fees are to be paid by the developer (and not by the purchaser).
Registration and certification fees are non-refundable.
Registration and Certification Flow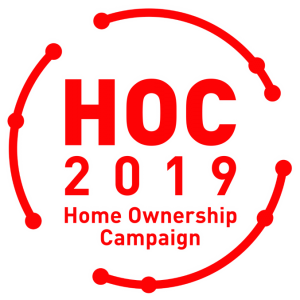 Forms/Documents for Registration Exercise
4)  Developers' Licence (DL) and Advertisement & Sale Permit (AP)  [certified copy]  [for UNDER CONSTRUCTION project]
5)  (a) Certificate of Completion and Compliance (CCC)/Form F [certified copy] [for COMPLETED project]
6)  Proof of Payment Made
Form/Document for Certification Exercise
2) Copy of Sale & Purchase Agreement (SPA) [relevant pages only]
Registration and Certification Conditions